Utopia Sales has specialised in the Sitges real estate market for over 10 years, and we have established a portfolio of the finest available properties in Sitges.
Our approach is an intimate understanding of what every client wants from their Sitges property. This goes beyond the type of house and budget. Your investment, financial, and personal goals are crucial to making the right choice.
We pride ourselves on our relationships with both owners and buyers, built on transparency, professionalism, and experience. These relationships give us the ability to understand and meet your needs.
Investment Opportunity
The Utopia Group offers a unique end-to-end opportunity to discerning investors. For selected quality investment properties, we can deliver long-term management of the investment for you.
Our sister company Utopia Villas will manage the property for short term holiday rentals and midterm rentals on your behalf.
For many properties, we can guarantee a minimum rental return on your investment. It gives you a hassle-free income while you benefit from the appreciating value of your premium property.
End-to-end Service
We understand that the assessment, purchase, and renovation of a property can be a big undertaking. Utopia Sales works with a select group of quality local professionals. We want you to get the best outcome; for your home or from our proven vacation-rental investment model.
Architects: We consult on immediate and future renovations and enhancements. This ensures a quality high-spec build that meets local regulations. This means you have a clear view from as early in the process as you need, including pre-purchase. From architectural design, to project and construction management, we have you covered.
Interior Designers: Our team have an eye for quality design, material sourcing, and current trends. They are expert in creating a comfortable and unique living space for you or a desirable and resilient rental property.
Legal & Tax Consultants: Our experienced team offers the best legal and taxation advice. Their intimate knowledge of local laws and requirements give you a personalised edge.
Property Management: We will use our extensive rental client base and advertising platforms to source great tenants for your property. Our billing, client services, cleaning and maintenance teams will ensure your property is rented and maintained in your best interests.
Professionalism
Our team knows Sitges. We have an intimate knowledge of the best properties in the best areas. And our multilingual team's professionalism makes us your preferred partner for property purchase decisions in Sitges.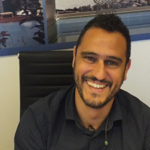 CO-FOUNDER & SALES MANAGER
Emilio has a passion for property. This, coupled with his commercial expertise, has led...
CO-FOUNDER & BUSINESS MANAGER
Miriam's focus lies in delivering operational excellence from acquiring new properties to ensuring a...
Belen is responsible for financial administration within Utopia Sales. She supports both internal and...